7th REMIT Forum – REMIT II: Improving integrity and transparency in wholesale energy markets
Online
05/12/2023 09:00 - 16:30 (Europe/Brussels)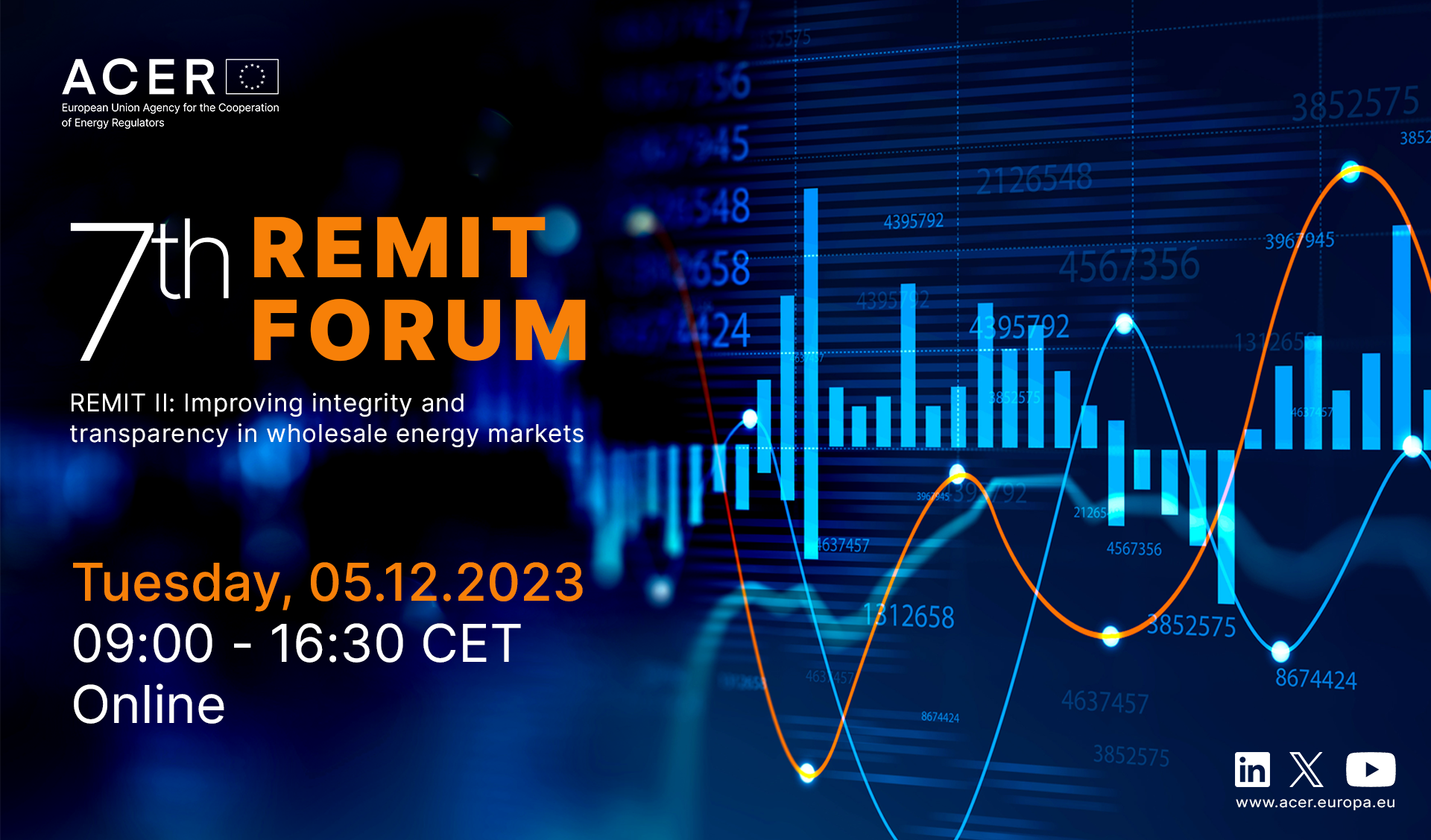 What is it about?
ACER is hosting the 7th REMIT (Regulation of Energy Market Integrity and Transparency) Forum.
2023 REMIT Forum explores the main changes the REMIT revision would bring
In the course of 2021 and 2022, energy prices in Europe surged upward due to various factors, including reduced gas supply and Russia's aggression towards Ukraine. Additionally, the post-COVID-19 global economic recovery led to increased energy demand, which contributed to prices spiking.
Against this background, in March 2023 the European Commission launched two legislative proposals:
REMIT revision; and

revision of electricity market design rules.
The proposed REMIT revision aims to align the scope of the regulation with evolving market dynamics. Key amendments include:
Expanded scope of data reporting, encompassing new electricity balancing markets, coupled markets, and algorithmic trading.

Enlarging the scope of REMIT's market abuse provisions to wholesale energy products that are also financial instruments.

Supervision of reporting parties like Registered Reporting Mechanisms (RRMs) and Persons Professionally Arranging Transactions (PPATs).

Harmonization of fines across National Regulatory Authorities (NRAs).

Reinforced cooperation between energy and financial regulators (ACER and the

European Securities and Markets Authority (ESMA)

), ensuring a robust regulatory framework for derivative wholesale energy products.

Strengthened ACER oversight over RRMs and Inside Information Platforms (IIPs) to improve the collection of inside information and market transparency.

Enhanced role for ACER in complex cross-border cases with a European dimension, reinforcing market integrity.

Permanent extension of ACER's power related to the implementation of the

Liquefied Natural Gas (LNG) price assessment and benchmark

.